Building and maintaining brand loyalty is essential for long-term success. One powerful way to nurture this loyalty is by showing your appreciation to your valued customers during the holiday season. Custom promotional holiday gifts are a fantastic way to do just that. In this blog post, we'll explore the benefits of using custom promotional holiday gifts to reward brand loyalty and provide some creative ideas to get you started.
The Importance of Brand Loyalty
Brand loyalty is the holy grail for businesses. It means that your customers not only prefer your products or services but also choose them repeatedly over your competitors. Loyal customers are more likely to recommend your brand to others, provide valuable feedback, and even forgive occasional mistakes. Therefore, investing in strategies to foster brand loyalty is a wise decision for any business.
The Power of Custom Promotional Holiday Gifts
Custom promotional holiday gifts can be a game-changer in nurturing brand loyalty for several reasons:
Personalization
When you offer custom gifts, you show your followers that you value their individuality and unique relationship with your brand. This personal touch can deepen their emotional connection to your business.
Positive Associations
Thoughtful holiday gifts create positive associations with your brand. Recipients will associate your company with generosity and appreciation, enhancing their overall perception of your brand.
Long-Lasting Impression
Promotional gifts serve as a constant reminder of your brand long after the holiday season ends. Every time customers use or see the gift, they'll be reminded of your business.
Enhanced Customer Retention
By showing your appreciation through custom gifts, you can increase customer retention rates. Loyal customers are more likely to continue doing business with you.
Creative Ideas for Custom Promotional Holiday Gifts
Now, let's explore some creative ideas for customized holiday gifts that can effectively reward brand loyalty:
Design custom T-shirts, gloves, or caps with your company logo and a festive holiday message. Customers will proudly wear your gear, spreading brand awareness wherever they go. You can also consider offering special limited-edition holiday designs that capture the spirit of the season. Whether it's a jolly Santa Claus on your T-shirts, cozy winter scenes on your gloves, or whimsical holiday-themed graphics on your caps, these unique creations will not only delight your customers but also make them feel like they're a part of an exclusive holiday club.
And remember, by incorporating a heartfelt holiday message alongside your logo, you're not just promoting your brand; you're sharing the warmth and joy of the season with your customers, forging a deeper connection and fostering goodwill that can extend far beyond the holidays. So, don't miss out on the opportunity to turn your merchandise into cherished holiday keepsakes that keep your brand top of mind all year round.
Design holiday-themed coffee mugs or travel mugs with your logo and a heartfelt message. These are perfect for customers who enjoy a warm beverage during the cold season.
You can also consider offering eco-friendly options for your holiday-themed mugs. Choosing sustainable materials and manufacturing processes not only aligns with the growing eco-conscious consumer trend but also sends a positive message about your company's commitment to the environment. By opting for reusable, recyclable, or biodegradable materials, you're not only providing your customers with a festive and functional gift but also contributing to a greener planet. It's a win-win that allows you to spread holiday cheer while making a positive impact on both your brand's image and the world around us. So, this holiday season, let your logo shine on mugs that warm hearts and nurture the planet.
Popular Trending Items
Curate gifts with your logo that are a popular must-have this season, like branded belt bags or pickleball sets! These trending items not only showcase your brand but also cater to the current interests and hobbies of your customers. Additionally, consider adding complementary accessories or themed bundles that enhance the overall gift experience. Whether it's including a water bottle with the pickleball set or a matching scarf with the belt bag, these thoughtful pairings can make your gifts even more enticing. By staying attuned to the latest trends and providing comprehensive gift options, you ensure that your customers find the perfect, on-trend presents while boosting your brand's visibility during this festive time of year.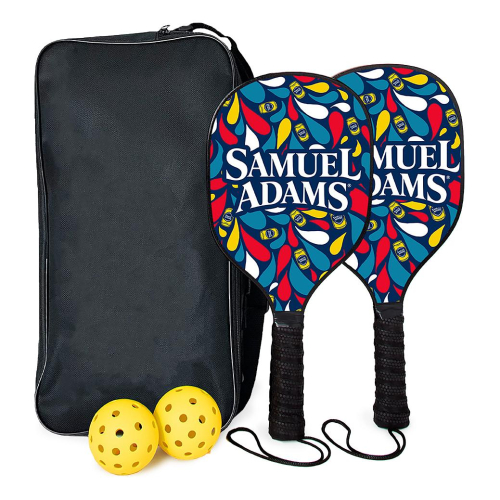 Create custom holiday candles with your logo and a heartfelt holiday message. Candles are not only a symbol of warmth and coziness during the festive season but also make for wonderful, sensory gifts that engage both sight and scent. Choose candles with seasonal fragrances to evoke the spirit of the holidays. These candles can set the mood for holiday gatherings or create a tranquil ambiance for moments of relaxation, making them a versatile and memorable addition to your seasonal giveaway lineup.
Design custom mini speakers with your logo and a festive holiday message. Mini speakers are the perfect holiday gift for tech-savvy customers who enjoy bringing their music and holiday playlists to life. These portable speakers provide exceptional sound quality and can be taken anywhere, from cozy indoor gatherings to outdoor winter adventures. To add a seasonal twist, consider offering limited-edition holiday-themed speaker designs or bundling them with holiday playlists to enhance the festive atmosphere. Your branded mini speakers will not only amplify the holiday spirit but also keep your logo and message resonating in the ears of your customers, making every moment a memorable one during this special time of year.
Strengthening Customer Bonds with Custom Holiday Gifts
In the world of business, brand loyalty is a priceless asset. Custom holiday gifts provide an excellent opportunity to express your gratitude to your loyal fans and customers while reinforcing your brand's positive image. By personalizing your gifts and making them thoughtful, you can create lasting connections that will benefit your business for years to come. Remember, the key to rewarding brand loyalty is to show genuine appreciation, and custom gifts are a tangible way to do just that. So, this holiday season, make sure to spread the joy and strengthen your customer relationships with custom promotional gifts from your business.

---