Sustainable Branding: The Rise of Custom Logo Umbrellas Made from Eco-Friendly rPET Polyester
Eco-Friendly
Umbrellas
Recycled Material Umbrellas Leading the Sustainable Product Surge
The demand for sustainable products and eco-friendly alternatives has seen a remarkable surge. This green wave has rippled through industries, including promotional items and branded merchandise. Among these, custom logo umbrellas made from recycled materials stand as a beacon of sustainability, offering both functionality and eco-consciousness. These innovative products not only shield us from the elements but also embody the ethos of sustainability by being crafted from recycled rPET polyester.
Recycled umbrellas have gained significant traction in the promotional merchandise arena. Companies, big and small, are increasingly turning to these eco-friendly alternatives to showcase their brands while also reflecting their commitment to environmental responsibility. The use of recycled materials in these promotional umbrellas, particularly recycled polyester (rPET), is a testament to the innovation and progress in sustainable manufacturing.
What is rPET Polyester?
rPET polyester, derived from recycled plastic bottles, takes a notable step forward in reducing environmental impact. By repurposing single-use plastics into durable, weather-resistant umbrella canopies, these products not only divert waste from landfills but also reduce the demand for new raw materials, subsequently curbing the need for additional resources and energy consumption in production.
The creation process of these recycled umbrellas begins with the collection of used plastic bottles. These bottles are then sorted, cleaned, and processed into fine threads, ultimately woven into durable, high-quality fabric. The resulting material possesses the same robustness and resilience as traditional polyester, but with the added advantage of being environmentally friendly.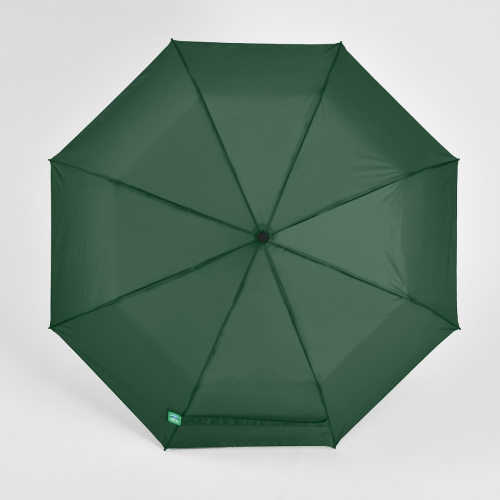 Advantages to Eco-Friendly Custom Logo Umbrellas made
One of the primary advantages of using recycled polyester in custom logo umbrellas is the ability to reduce the carbon footprint. By choosing these sustainable promotional items, companies contribute to the circular economy by minimizing waste and supporting the idea of reusing materials. This choice not only reflects positively on the brand but also aligns with the values of socially conscious consumers.
Furthermore, the versatility of these recycled umbrellas isn't limited to their eco-friendly composition. They offer ample space for brand customization, making them an ideal canvas for corporate logos, slogans, or designs. The promotional umbrellas serve as mobile billboards, promoting the brand's identity while aligning with the environmentally responsible image that companies aim to project.
Consumers are Seeking out Sustainability in Company Practices and Products
Consumer awareness regarding sustainability has dramatically influenced purchasing decisions. Today, consumers actively seek products that echo their values and align with their environmental concerns. Hence, companies utilizing recycled polyester in their promotional umbrellas not only attract attention but also resonate with a growing demographic that prioritizes eco-consciousness.
The use of recycled materials, particularly recycled polyester, in these custom logo umbrellas extends beyond marketing. It embodies a commitment to sustainable practices and serves as an educational tool, highlighting the significance of reducing, reusing, and recycling materials. As more companies embrace sustainability in their promotional strategies, the demand for recycled umbrellas made from recycled polyester is likely to soar. This trend not only fosters a culture of environmental responsibility but also steers the promotional merchandise industry towards a more sustainable and ethical future.
Eco-conscious down to the packaging, each umbrella now arrives in a recycled kraft paper gift sleeve. No more excess packaging or plastic bags here!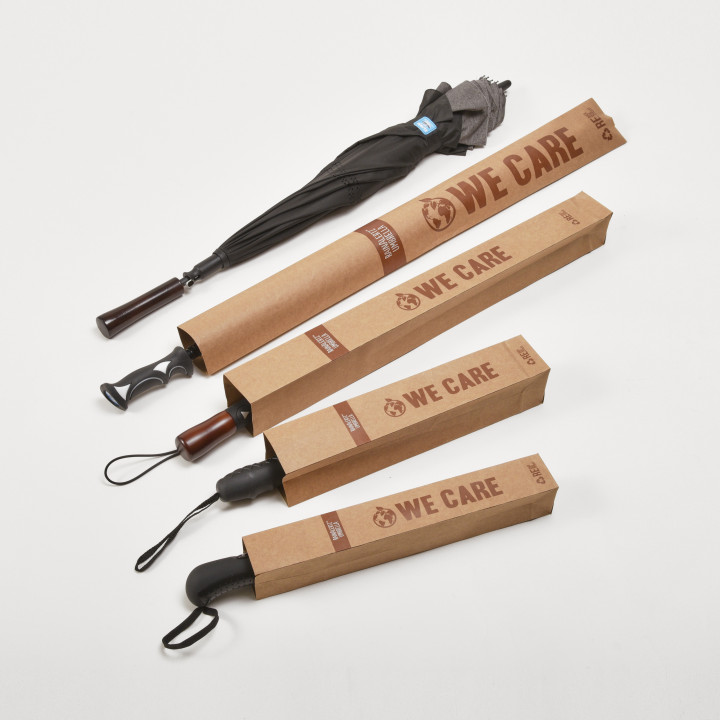 Quality Matters
The appeal of these umbrellas doesn't just lie in their eco-friendly composition and branding potential. They deliver on functionality and durability, standing strong against various weather conditions while serving as a long-lasting accessory. Our RainAlertz umbrellas have been wind tunnel tested at Texas A&M University and hold up as one of the best brands in the industry! Whether used by employees, clients, or as giveaways at events, these umbrellas make a lasting impression while contributing to the planet's well-being.
Umbrellas of Change
The adoption of custom logo umbrellas made from eco-friendly rPET polyester represents a pivotal shift towards sustainability in promotional branding. These recycled umbrellas don't just shield from rain or shine; they symbolize a brand's commitment to environmental stewardship and resonate with conscientious consumers, making them a beacon of change in the promotional products landscape. Shop more than 50 custom logo umbrellas made from eco-friendly rPET polyester below: