Tech the Halls with Custom Accessories to Light Up the Gifting Season
Corporate Gifts
Holiday Gift Ideas
Electronics
During last year's holiday season, it's estimated that almost 200 million US adults bought tech products and services as presents. With no end in sight to the demand for tech products, related accessories make the perfect stocking stuffers for showing how much you appreciate your employees and customers – almost everyone can use these practical items in their day-to-day lives. If you really want to light up your recipients' faces, choose an SCX Design® product that illuminates your brand while also delivering the functionality people desire.
About the Brand
Created in 2017, SCX Design® is a young French company that specializes in the design and creation of innovative products as a medium of communication. We are convinced that smarter consumption habits are key to a sustainable future, and we aim to develop premium, smart and useful promotional items to develop brand recognition.
Features Abound
All SCX Design® items boast several features that make them great gifting choices:
Fun light-up custom logo
Exclusive design
Soft-touch rubberized finish
RPET charging cables
Premium gift box or pouch included
3-year warranty (excluding cables)
So, get ready to sleigh your year-end gifting with these top tech accessories that everyone wishes they had!
Power Up
In 2022, Deloitte reported that, on average, US households now own 22 connected devices. No wonder we feel like we never have enough charging cords! Enter the SCX Design® Eco Ring Light Cable. No matter the type of device, this multitasking master can handle it! Compatible with Apple®, Micro-USB, and USB Type-C devices. Make the everyday task of charging your devices a little more fun with an illuminated logo. As a bonus, the cords are made from RPET material, making this item an eco-conscious choice. The light-up logo adds a unique and eye-catching element to the charging cord. This can capture the curiosity of users and those around them, prompting them to inquire about the product. As a result, the logo becomes a conversation starter, allowing users to share information about your brand and products.
SCX Design® Eco Ring Light Cable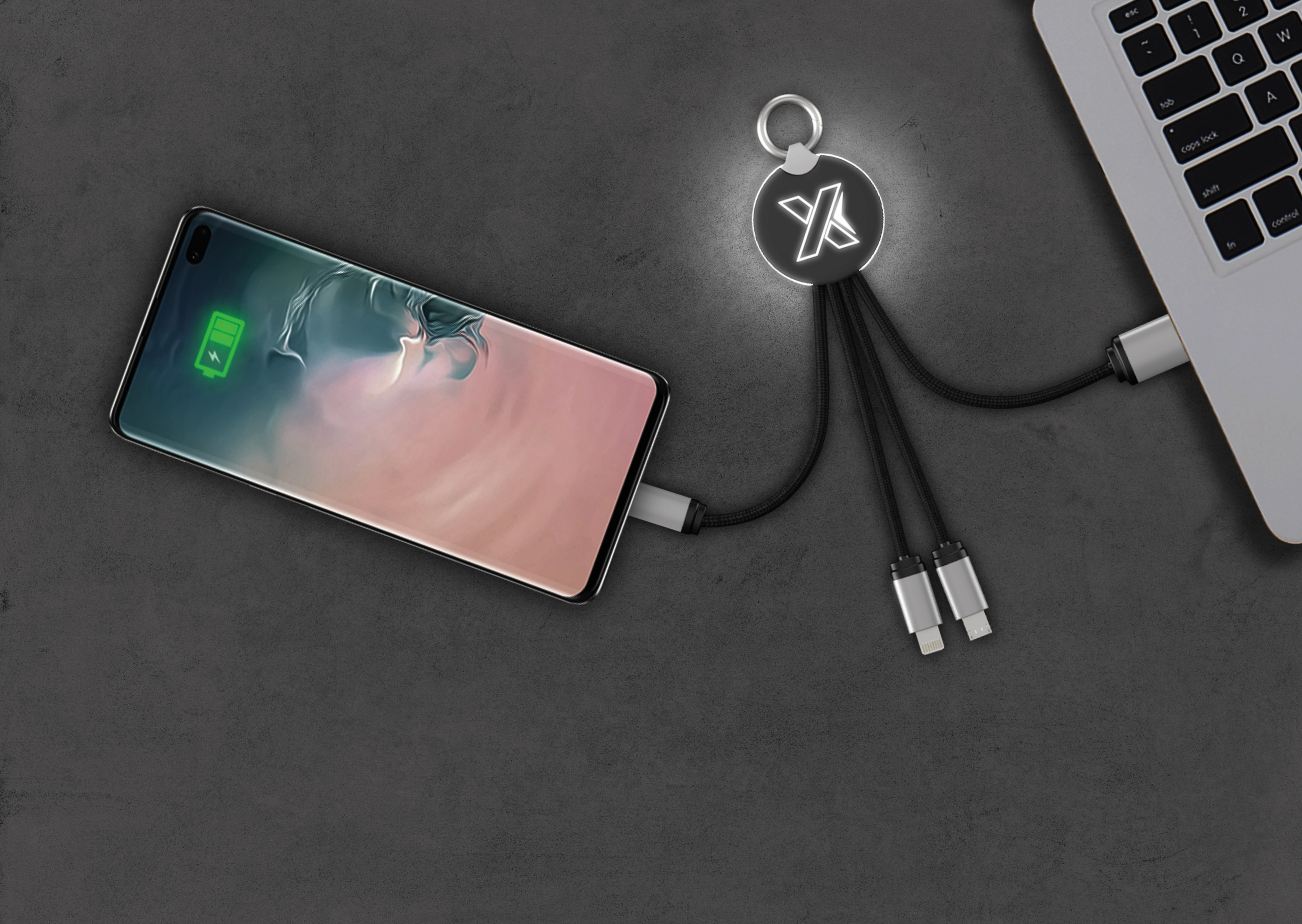 For on-the-go connectivity, a power bank is a must, especially with the threat of juice jacking at public USB charging stations. The SCX Design® Jumbo Wireless Power Bank 10,000 mAh is an ideal sidekick for a marathon holiday shopping trip or a flight to grandma's house, eliminating the worry of a dead battery. The combination of a practical item like a power bank with an interactive and visually appealing feature like a light-up logo creates a memorable experience. People are more likely to remember and associate your brand with positive emotions, which can lead to increased brand recall when they need products or services similar to what you offer.
SCX Design Jumbo Wireless Power Bank 10,000 mAh
WFH in Style
Research estimates that almost 13% of full-time employees now work from home and almost 30% work a hybrid model. The SCX Design® Walnut Wood Wireless Earbuds and Charging Case are a perfect expression of appreciation for these team members. Whether they need to join an online meeting or just want to listen to relaxing music while crunching some numbers, they can do it style with these sleek earbuds. People are more likely to share or discuss products that have a visual wow factor. Users who are impressed by the light-up logo on the earbuds are more likely to share their discovery with friends, family, or on social media. This user-generated content can significantly amplify your brand's reach without additional advertising efforts.
SCX Design Walnut Wood Wireless Earbuds and Charging Case
Pre-Order Now: Incoming stock expected 10/31/23!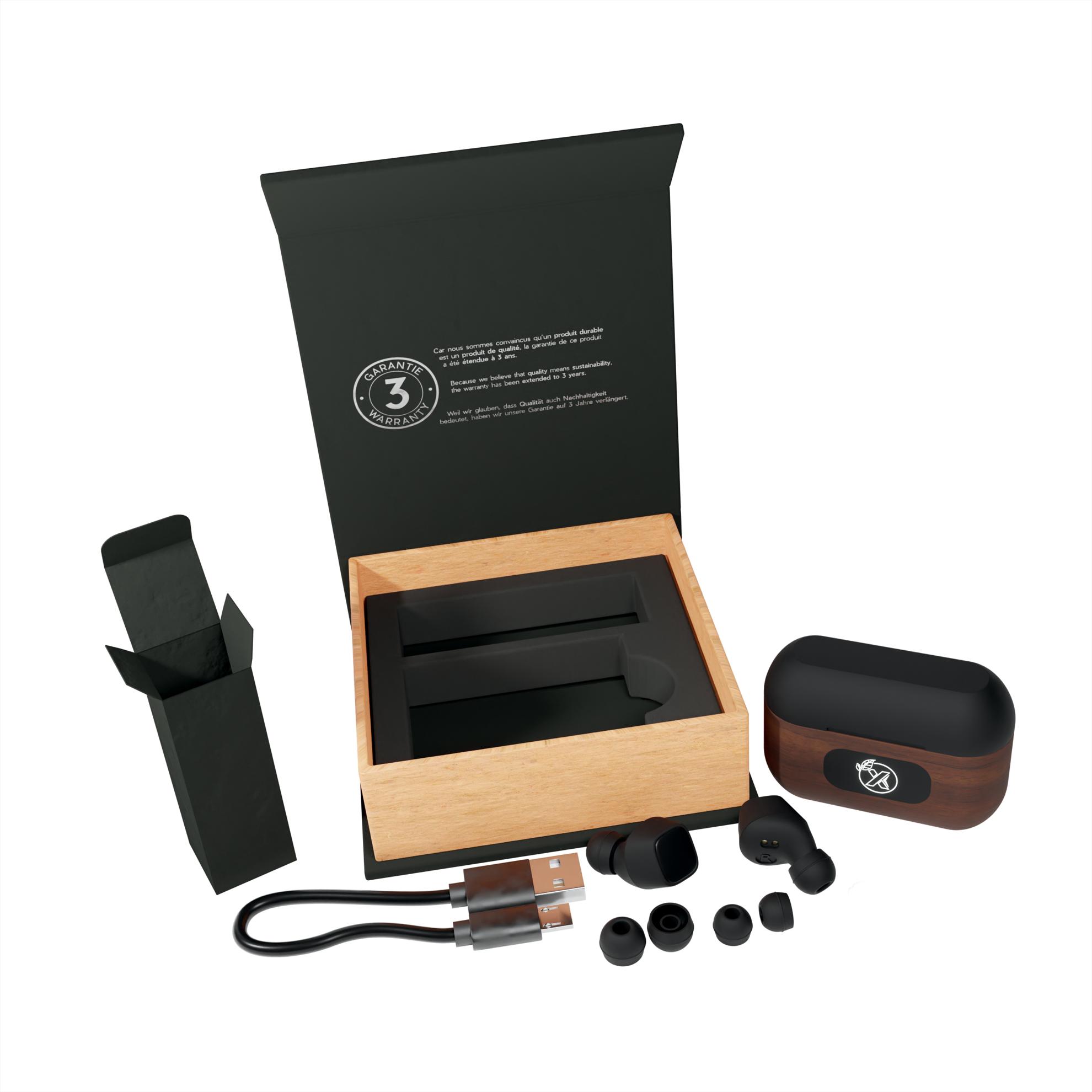 Jingle Bell Rock
End-of-year festivities are a little more, well, festive with some music playing. The SCX Design® Maple Wood Clever 5W Speaker keeps the good times rolling with 6 hours of play time. In a market saturated with generic wireless speakers, a light-up logo sets your gift apart from the competition. It adds a touch of innovation and uniqueness that can help your brand differentiate itself and create a distinct identity in the minds of consumers.
SCX Design Maple Wood Clever 5W Speaker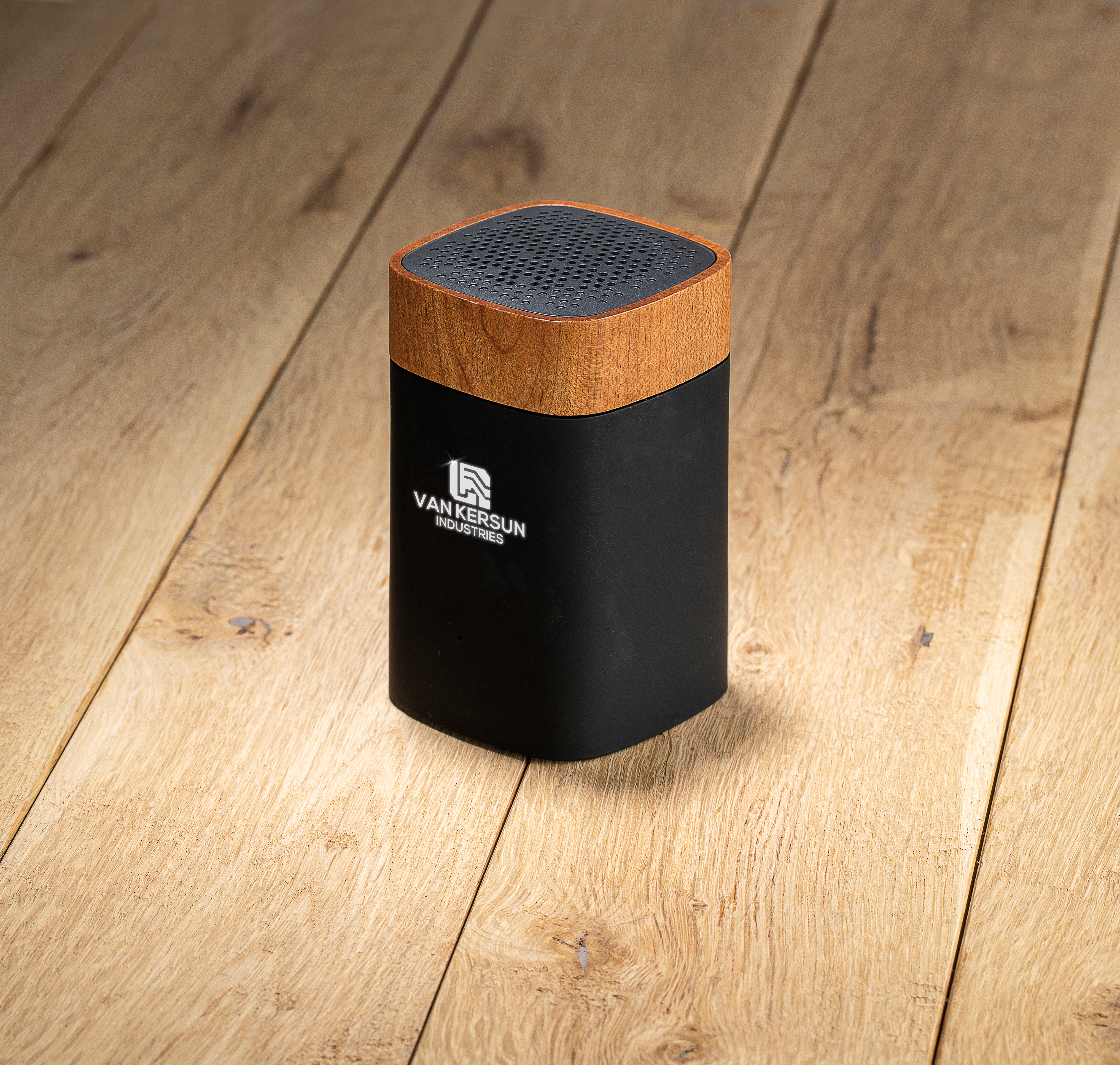 Looking for even more cool branded accessories to wrap up this year?
Printing your logo on a tech accessory with a light-up feature combines functionality with visual appeal, making it an excellent tool for enhancing brand visibility, sparking conversations, and creating positive associations with your brand. Explore our 20+ SCX Design® products that are guaranteed to delight everyone on your gifting list and let the merry begin!